Lynas Corporation Limited
www.lynascorp.com
Profil
Lynas Corporation Limited's (ASX: LYC) vision is to be a global leader in Rare Earths for a sustainable future; a vision realised by the passion and practices of our people.

Lynas is an ASX listed company, with the strategy to create a reliable, fully integrated source of Rare Earths supply from mine through to customers, and to become the benchmark for security of supply and environmental standards in the global Rare Earths industry.

Lynas owns the richest deposit of Rare Earths in the world at Mount Weld, Western Australia. Project development has commenced, with the first mining campaign completed and two processing plants underway. All necessary approvals required for project development have been received, the project is funded and production will commence in 2011.
Aktienkurs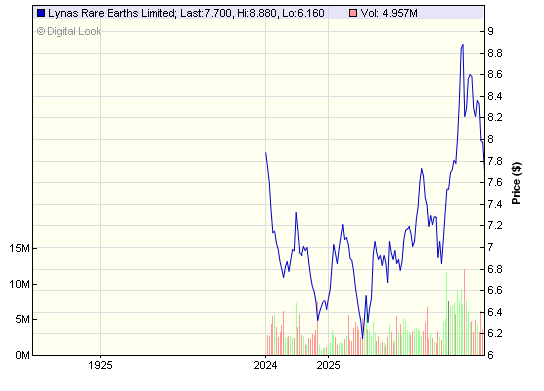 Vorstellungen
Keine Unterlagen verfügbar.
Verbundene Recherche
Keine Unterlagen verfügbar.
Unternehmensstrategie und – daten:
In past years, Lynas has observed a trend in Chinese Government policy decisions which is leading to an increase in Government control of the Rare Earths industry in China and the tightening of supply due to the imposition of mining production quotas, and the reduction and restrictions on trading of the existing export quota. These policy decisions have followed the removal of VAT rebates for exports of Rare Earths oxides and an increased enforcement of China's stringent environmental standards which resulted in the closure of non-compliant Rare Earths plants.

Shortly after the introduction of production quotas in China the company determined it was prudent to investigate potential sites other than China that would be suitable for the company's proposed processing plant for Mt Weld ore. The drivers for this decision were the:

- Increasing Government control of the Rare Earths industry in China, thereby increasing the
project risk for our plant
- Escalating operating costs in China due to the Government policies noted above, and also
inflation affecting cost of reagents, utilities and labour
- Favourable tax environments available in alternative countries
- Opportunity to reduce cost base denominated in Renminbi, and thereby benefit from a
strengthening Chinese currency

The first stage was to relocate the concentration plant from China back to Mount Weld, and the next phase was to develop an Advanced Materials Plant to process the concentrate through to the final product.

Following a detailed evaluation of several possible sites, Kuantan, in the state of Pahang, Malaysia, was chosen for its favourable investment climate, the high quality workforce, the excellent infrastructure servicing the proposed site and the readily available reagents used by the Plant.

Lynas has been granted the "strategic pioneer status" by the Malaysian Industrial Development Association (MIDA), which has a number of associated benefits including a 12 year tax free period.

Kuantan offers a highly skilled and educated labour force with experience in the chemical industry and a key benefit is also their English proficiency.

The state has a robust and first-class transport network, comprehensive communications networks and reliable supply of natural gas, electricity and water at competitive prices. Kuantan has excellent port facilities for handling bulk liquid chemicals and containers to accommodate the transport of. Mount Weld concentrates to Gebeng in sealed containers.

Of significant advantage for the Gebeng Industrial Estate site is the fact that manufacturers of key reagents required for the process (lime, sulfuric acid, and hydrochloric acid) are already established in close proximity to the proposed plant site.

Lynas has received the environmental and municipal approvals from the Malaysian authorities and has commenced construction of the Advanced Materials Plant in the Gebeng Industrial Area in Kuantan.
Aktuelle Tätigkeiten:
Rare Earths
Enchancing Environmental Protection

Enabling Digital Technology

Improving Energy Efficiency
First Mining Campaign


The initial mining campaign was successfully completed in June 2008 and was accomplished lost-time-injury free, on budget and ahead of schedule. [READ MORE]

Concentration Plant


Following the Company's announcement on 29 September 2009 of a fully underwritten issue of new fully paid ordinary shares in Lynas to raise $450 million, Lynas is pleased to confirm that the equity raising was successfully completed and the full amount of $450 million less expenses has been received. [READ MORE]

Advanced Materials Plant


The proceeds of the capital raising will be used to fund the completion of Phase 1 of the Lynas Rare Earths Project. This has enabled the Company to lift the suspension of the Project to complete construction and commissioning of both the Concentration Plant in Western Australia and the Advanced Materials Plant in Malaysia. All equipment and infrastructure vendors have been advised of the restart and engineering and procurement activities have resumed. [READ MORE]

Mt Weld


Mt Weld Rare Earths Oxide (REO) deposit known as the 'Central Lanthanide Deposit' (CLD) is without a doubt the world's richest Rare Earths ore body, easily capable of supplying up to 20% of the global market for 30 years.

In addition to the world class Rare Earths Oxide (REO) deposit, the Mt Weld carbonatite is also host to extensive polymetallic Resource within the 'Crown Deposit' including niobium, tantalum, zirconium, titanium, and Rare Earths. [READ MORE]
Management
Nicholas Curtis B. A. (Hons)
Executive Chairman


Appointed Executive Chairman of the Company in 2004. Prior to this Nick was President and Chief Executive Officer. He has over 20 years background in mining and finance including founding Sino Gold Limited, an Australian public company with gold mining assets in China and serving as Chairman for five years until November 2005. Nick also serves as Chairman of St Vincents & Mater Health Sydney Limited and as a Director on the Boards of the Sisters of Charity Health Service and the Garvan Institute of Medical Research.

David Oliver Davidson
Director - Non Executive


David is an independent Director of the Company and joined the Board on 28 March 2002. He has had a distinguished career with ICI and DuPont. An Australian, he has lived and worked in Europe and North America and held a number of Senior Executive roles with global responsibilities. He is a former Director of ICI America Inc. Since returning to Australia, David has been providing executive and corporate advice on organisation development and strategy.

Jake Klein
Director - Non Executive


Appointed an independent Director of the Company, Jake joined the Board on 28 August 2004. He is also President and Chief Executive Officer of Sino Gold Ltd and President of Australia China Business Council NSW. Jake has over 14 years experience in senior finance and managerial positions. He brings invaluable knowledge of management of operations in China gained through his role as Chief Executive Officer of Sino Gold Limited.

Liam Forde
Director - Non Executive
Lead Independent Director


William (Liam) Forde joined Lynas Corporation as a Non Executive Director in December 2007. He is the Lead Independent Director of the Company. Liam has many years experience in senior finance and managerial positions in both Ireland and Australia. He is currently a director of Westpac Banking Corporation's Westpac Funds Management Limited and Chairman of Hastings Funds Management Ltd. In addition Liam is a member of several advisory boards and a member of the Australian Institute of Company Directors. Liam was Chief Executive Officer of Baulderstone Hornibrook Pty. Ltd. from 2002 to 2005, following 15 years as Chief Financial Officer for the company.
Hauptaktionäre
Kontakt
Head Office
Level 7, 56 Pitt Street
Sydney, NSW
Australia 2000

Phone: +61 (2) 8259 7100
Fax: +61 (2) 8259 7199
Email: [email protected]

Perth Office
Suite 11, 41 Walters Drive
Herdsman, Western Australia
Australia 6017

PO Box 1884
Osborne Park BC
Western Australia 6916

Phone: +61 (8) 6241 3800
Fax: +61 (08) 9242 7219
Email: [email protected]

Lynas Malaysia Sdn Bhd
No. 72 Jalan Gebeng 1/24
Bandar Industri Gebeng Jaya, 26080
Kuantan, Pahang, Malaysia

Phone: +60 (9) 583 4445
Fax: +60 (9) 583 4446
Email: [email protected]
Unternehmensinformationen
Share Registry
Security Transfer Registrars
770 Canning Highway
APPLECROSS WA 6963
Tel : +61 8 9315 2333
Fax : +61 8 9315 2233
Anleger, die in Lynas Corporation Limited interessiert sind, haben auch angesehen: