Western Desert Resources
www.westerndesertresources.com.au
Profil
Western Desert Resources Limited (ASX:WDR) ist ein gefächertes Mineralexplorations Unternehmen. Es konzentriert sich auf die Erhöhung des Unternehmenswerts durch die Entdeckung, Bewerbung und Entwicklung von erheblichen wirtschaftlichen Mineralressourcen.
Der Vorstand und Mangement von Western Desert Resources haben erhebliche Erfahrung. Die Hauptprojekte der Firma sind: Roper Bar - eine spannende Eisenerzprojekt im Northern Territory; Rover, ein Joint Venture mit börsennotierten Gesellschaft TNG Limited; die Erwerbung einer Hauptbeteiligung an Thor Mining im Rahmen von einer hochgradigen Molyhil Wolfram-und Molybdän-Lagerstätte im Northern Territory. Pläne für den Bau einer Anlage zu beginnen.
Aktienkurs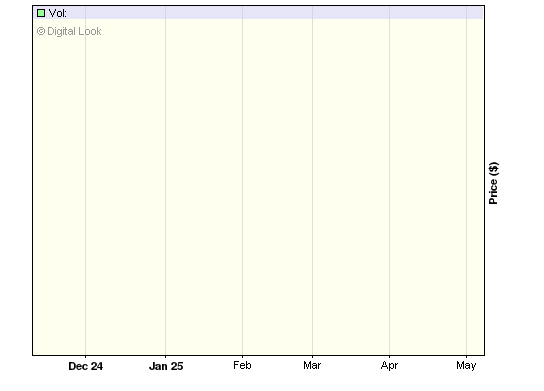 Aktuelle Nachrichten von Western Desert Resources
Vorstellungen
Keine Unterlagen verfügbar.
Verbundene Recherche
Keine Unterlagen verfügbar.
Unternehmensstrategie und – daten:
Western Desert Resource's business is built on the exploration of its substantial portfolio of iron ore, manganese, uranium, gold and base metal projects in the world-class mining provinces of Australia and will continue to grow through the generation and acquisition of new opportunities and resources.
Aktuelle Tätigkeiten:
Rover
* The Tennant Creek IOCG deposits are characterised by very high gold grades. This means
that commercially viable deposits may be found at depths of hundreds of metres.
* Drilling by Westgold Resources Ltd on the Rover 1 anomaly, located less than one kilometre
from the boundary of EL25581, returned spectacular intersection including one of 65 metres
at 11 g/t gold & 0.75% copper.
* Historical drilling over a number of years by explorers in the Rover field has determined that
large areas of the Warramunga Formation, which hosts the orebodies at Tennant Creek,
exist at depth under cover. (Read More)
Roper Bar
The Roper Bar Iron Ore project is located in the Roper River region of the Northern Territory, some 40 kilometres from the Gulf of Carpentaria. The nearest settlement is at Roper Bar, 80 kms to the northwest.

WDR in partnership with IMEA Exploration and Development Australia Pty Ltd, a subsidiary of the Japanese company ITOCHU Corporation hold tenements which cover extensive areas of outcropping ironstone and substantial quantities under thin cover.

Under the terms of the farm-in agreement, ITOCHU will spend up to A$15m to earn a 51% interest in the Roper Bar Iron Ore project. In addition, ITOCHU will have marketing rights to 100% of product from the joint venture.

A drilling program in 2008 confirmed substantial ironstone under cover assaying up to 60% Fe. Subsequent beneficiation testwork successfully upgraded material of moderate grade to 63%-65% Fe using low cost gravity techniques. (Read More)
DRILLING COMMENCEMENT - ROPER BAR NT IRON ORE PROJECT 1 July 2009
WESTERN DESERT RESOURCES LIMITED (WDR) provides the opportunity to listen to an audio broadcast with Norm Gardner, Managing Director in a presentation titled "WDR - Fully Funded Drill Program Commences - Norm Gardner, Managing Director".

Gladstone
The Gladstone project forms part of a joint venture with unlisted company Genesis Resources Limited. Under the joint venture agreement, which also includes the McArthur River tenement in the Northern Territory, WDR can earn a 45% interest by spending $600,000 on exploration and issuing 5 million shares to Genesis Resources Limited.

The Gladstone project is prospective for manganese, a crucial element in the steel-making process. It comprises one granted exploration permit, EPM15771, located 15 kms west of Gladstone in Queensland. The area includes numerous manganese deposits extending over 21 kms. The largest deposit, Mount Miller, produced over 20,000 tonnes of high-grade manganese at an average of 40%-50% Mn. At current prices this equates to approximately US$500 per tonne of ore. (Read More)


Thor
The acquisition of a major interest in Thor Mining provides exposure to the high grade Molyhil tungsten and molybdenum deposit in the Northern territory. Plans for construction of a plant to commence mining operations are well advanced.
Mountain Creek Iron Ore
The Mountain Creek Iron Ore project is located in the Roper River region of the Northern Territory, with close proximity to the Gulf of Carpentaria. The nearest settlement is at Roper Bar to the northwest. The area holds areas of outcropping ironstone and is alos prospective for substantial quantities under thin cover. The Mountain Creek project area totals over 1,000 sq kms, comprising a licence application ELA27143. The project is located in the northern part of the Northern Territory, a geological region endowed with numerous world class mineral deposits. (Read More)
Limbla Project
Western Desert Resources' primary project area for uranium exploration is the 100% owned Limbla group of tenements, comprising EL25331, EL25332, El25373, EL25402 and EL2554. The tenements are located 120 kms east of Alice Springs. Included in this area are two known uranium occurrences identified by Esso Australia Ltd in 1978 called Tourmaline Gorge and Albarta. The area has also been subject of previous exploration for base metals and diamonds. (Read More)
Management
Mick Billing B Bus ASA - Non Executive Chairman
(Director and Non-Executive Chairman of Thor Mining PLC, Director of Southern Gold Limited and Australasia Gold Limited)

Norm Gardner - Managing Director
(Director of Thor Mining PLC)

Graham Bubner B Sc - Non Executive Director

David Cloke - FCCA - Non Executive Director

Michael Kevin Ashton - Non Executive Director
For more information about WDR's management click here
Hauptaktionäre
For investor information click here
Kontakt
Address Details:
Level 1 / 26 Greenhill Road
Wayville
SA 5034

Postal Address:
P.O. Box 83
Goodwood
SA 5034

T: 08 8177 8800
F: 08 8272 2838
E: [email protected]
Unternehmensinformationen
Share Registrar
Computershare Investor Services Pty Ltd
GPO Box 2975
MELBOURNE VIC 3001
Tel: 1300 85 05 05
Anleger, die in Western Desert Resources interessiert sind, haben auch angesehen: